Electronic Billboard Technology (EBT)
Developing Digital Outdoor Advertising Displays
In the late 1990s, people began to visualize the use of LCDs for advertising, publicity, announcements, and for other public display purposes. Some of these applications required the displays to be installed outdoors. 
Outdoor displays present particular challenges, among them the competition posed by sunlight. Using my OIS experience in developing avionic displays, I founded EBT which made "sun-visible" standard LCDs. These displays could function outdoors in direct sunlight and retain their readability, without being "washed out" by the sun's rays. The sun-visible LCD displays were among a number of unique products EBT developed in a very short time after its inception.
Texas Digital Systems, Inc., a company in College Station, Texas, licensed the sun-visible LCDs from EBT for outdoor applications. This company was the first to introduce sun-visible LCDs in drive-through lanes at McDonald's and other similar establishments.1  
First Prototype Developed
By 1997, the first prototype of a full color sun-visible electronic billboard, 8-feet × 10-feet, was ready, and Electronic Billboard Technology, Inc. (EBT) became reality. 
The charter of EBT was to create a business around outdoor advertising display products. After a successful demonstration to Eckerd's management, EBT installed its first sign at an Eckerd's store in Tampa, Florida. This large electronic billboard was a sun-visible display the same size as EBT's prototype.2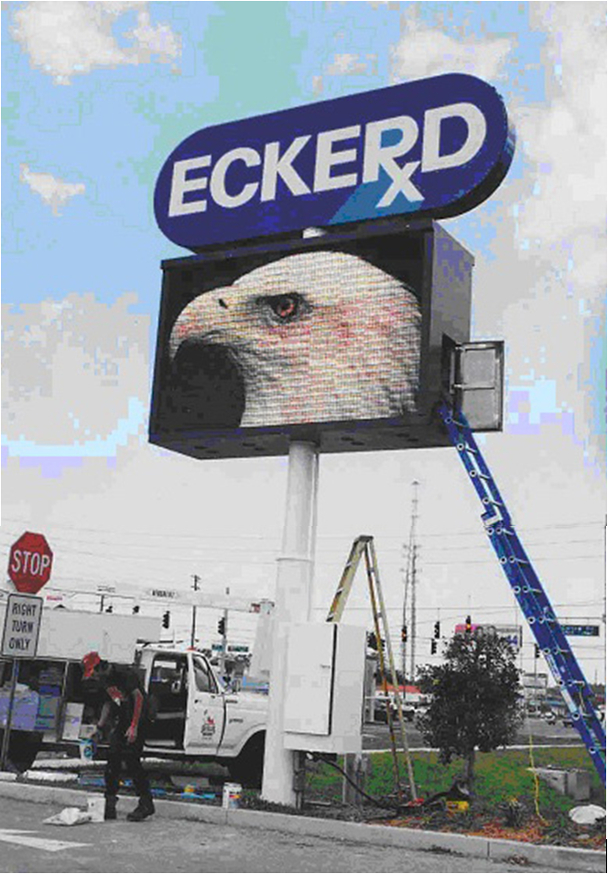 Electronic Billboard Technology developed a number of other display prototypes and showed them to potential customers. Among the materials EBT used for its displays was a film that consisted of liquid crystal material embedded in a transparent polymer (polymer dispersed liquid crystal [PDLC], invented at the Liquid Crystal Institute, Kent State University, that was manufactured by a Dallas, Texas company. 
The "e-window"
Using the PDLC film, EBT developed a number of store window advertising products. For example, by integrating the PDLC screen with a digital projector that could project an image onto the film, a transparent store window could be transformed into a display showing a full-color image, and then return to its original transparency. Electronic Billboard Technology called this invention the "e-window," and demonstrated prototypes to many potential customers, including Victoria's Secret. 
At the time the demonstration was scheduled, (the afternoon of September 11, 2001), Victoria's Secret was in the process of transforming its flagship store, located in the basement of the World Trade Center in New York City. Customers would be mesmerized by the ephemeral images of beautiful models wearing Victoria's Secret merchandise. Victoria's Secret intended in the future to retrofit all the store's windows with EBT's e-window. 
Then, on the morning of September 11, 2001, airplanes struck the World Trade Center towers.